Mar 28, 2005

There's an ongoing discussion inside the peace movement as to the wisdom of calling for the immediate withdrawal of U.S. troops from Iraq. Many believe in the slogan "Bring the troops home now!" They say that as long as the occupation forces of the United States remain in that brutalized and war-torn country there can be no hope of peace and an end to the slaughter and misery of the Iraqi people. That the U.S. presence is the very reason for the continuing violence and that the situation cannot get any worse than it's been or is now. Others believe demands should be made for rapid handover of security to the United Nations or a regional grouping of Mideastern nations and that, once in place, the United States should then immediately withdraw its troops. This would, they say, prevent chaos and, perhaps even civil war that could ensue if the U.S. just withdrew without further precautions.

What do you think?
Brooklyn Parents For Peace
will be holding a
forum
on Wednesday, April 6th at 8pm to discuss this question more fully. The meeting will be held at St. Francis College, 180 Remsen Street in Brooklyn Heights. For more information and transportation check the organizations
website.



The forum w

ill feature speakers from various endeavors, including:
Anthony Arnove

, an author, journalist, and activist based in Brooklyn, edited Iraq Under Siege: The Deadly Impact of Sanctions and War (South End Press) and Terrorism and War, a collection of interviews with Howard Zinn (Seven Stories Press). With Howard Zinn he co-edited Voices of a People's History of the United States (Seven Stories Press). His work has appeared in publications here and abroad.
Carolyn Eisenberg

, Co-Chair of Brooklyn Parents for Peace, is Professor of U.S. Foreign Policy at Hofstra University.
Erik Gustafson

, a veteran of the Gulf War, is founder and Executive Director of the Education for Peace in Iraq Center (EPIC), an organization dedicated to promoting policies that improve the lives of ordinary Iraqis. A recognized expert on Iraq and U.S. policy, he testifies at congressional briefings and policy forums and delivers lectures across North America.
Alex Ryabov

, a Brooklyn marine who served during the invasion of Iraq, is co-founder of Iraq Veterans Against the War.
This should be an interesting discussion. If you're in Brooklyn, make an effort to be there.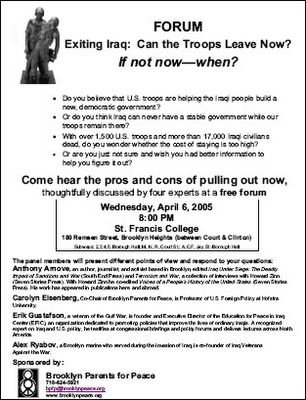 The Brooklyn Parents For peace flyer. By clicking on the image above you can download this and print it out for distribution to friends and family (and, still better, to non-friends and others who might not necessarily agree with you).