Mar 16, 2005

A favorite bike ride of mine, now that I'm situated in Prospect Heights, is to strike out for Carroll Gardens and Cobble Hill, two neighborhoods that adjoin each other, lying just south of Brooklyn Heights, about 2 miles straight west of my locale. It's an easy ride, through tree-lined streets with beautiful Brooklyn brownstones. First, I cross busy Flatbush Avenue, then travel downhill through Park Slope - it's a long decline so I hardly have to pedal, gravity doing most of the work. The flip side of that is the heavy cycling coming back up the other way.

Park Slope is so named because it lies, adjacent to Prospect Park, on the downward sloping side of the terminal morraine, the final resting place of the immense mass of boulders and debris pushed south by the glaciers during the last ice age some 17,000 years ago. Part of this morraine forms a long, continuous ridge that runs through New Jersey, Staten island and then Brooklyn and out to Long Island.

At the bottom of the Slope lies the much-abused Gowanus Canal, a sometime fetid and filthy waterway the leads inland from New York Bay and is still used by barges to deliver fuel oil and other stuff to Brooklyn depots that line its bank. For years, many have looked to the canal as a potential Venice of Brooklyn. Today, the canal is cleaner than it used to be and might one day be a place to dine, shop, stroll and reside. But as of now it is still lined with fuel tanks and mostly decrepit buildings of a bygone industrial past.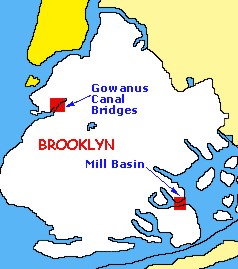 Map of Brooklyn showing the location of the Gowanus Canal.



Close-up detail map of the Gowanus Canal.

The canal presents a problem for traffic (and bicycles) travelling west. There are few crossings and two of five are one-way eastbound. So I head to the north end (the Gowanus ends at Butler Street) to clear the canal and reach my destination of Carroll Gardens and Cobble Hill. These are charming, old neighborhoods which used to be predominantly Italian-American. Today, lots of young people have moved into these neighborhoods, making them a bit more diverse. These communities are just a few subway stops from Manhattan and they, like so many of Brooklyn's river rim locales, have been gentrified. That means new shops and lots of great new restaurants. It also means higher rents, displacement of long-standing mom and pop shops as well as poorer residents who can no longer afford to live there.

I had lunch at one of my favorite spots: Cafe Luluc, which is on Smith Street - the area's hot, new restaurant row.



Cafe Luluc on Smith Street. Great salads, sandwiches and burgers. Cash only.

Most of the bridges crossing the Gowanus Canal are nondescript, city bridges. But one stands out - the Carroll Street bridge.And I usually take that as my bike route back. Painted a brilliant blue and paved with wide, wooden planks, it was built in 1889 and is the oldest known American bridge of the retractile type. In plain language: this rare and unusual bridge rolls back (i.e. retracts) on to the shore on steel rails, pulled by cables from a mechanism on the west bank. This allows ships to pass through on their way up the canal. It is one of the oldest bridges in New York city and one of only four such rolling bridges in the country.


Looking up the Gowanus Canal from the Carroll Street bridge.


The cables and rails used to roll the bridge on to the shore.


Quaint sign from which, seemingly, drivers feel they are exempt.


Reinforcing cables on the Carroll Street bridge.


Will the Gowanus be transformed into Brooklyn's Venice someday?

This was a nice bike ride - just a few miles back and forth on a late winter day. It's still cooler than average and with a light wind whipping off the water felt even chillier. Still, there's a certain wonderful whiff of something that I noticed today. It feels like Spring is in the air and just around the corner. That's good! I've had enough of winter. I'm ready.